FAQs
Frequently Asked Questions
We listed out a few questions that we get frequently to help you understand how our personal injury lawyers can help you. Remember, if you have any additional questions, feel free to contact us. We are here to help!
What is no-fault?
No-Fault Insurance (typically the injured person's own insurance company) pays for most out-of-pocket losses, such as medical and chiropractic bills, lost wages and many other types of out-of-pocket loss. It doesn't matter who caused the accident – hence the name "No-Fault". If you have been injured, you may also recover from the "at-fault" or negligent driver for your other losses, such as permanent injury, pain, suffering, disability, embarrassment and other losses. Because the No-Fault Law is complicated, the following information can only provide a brief summary.
We strongly encourage you to call Keller, Woods & Thompson, P.A., at
763-447-4076 to talk to an experienced personal injury lawyer if you or a family member has been hurt in an accident.
Why no-fault?
The basic premise behind the law is that anyone owning a car in the state of Minnesota is required to carry insurance to cover their own medical expenses, wage loss and other economic losses arising out of an automobile accident. That way you are able to protect yourself regardless of fault or whether the other driver is insured.
Who is required to have Minnesota no-fault Insurance?
All Minnesota motor vehicle owners must have no-fault insurance except motorcycles, which only need liability coverage. You will need to have proof of insurance to obtain or renew your license plates. It is a misdemeanor criminal offense if you drive, or let anyone else drive, your vehicle without insurance.
What insurance coverage is required?
The insurance carrier must provide the following minimum coverages under your policy:
1. Bodily Injury Liability (BI): $30,000 per person $60,000 per accident. This is the coverage that covers you if you cause an accident and injure someone.
2. Property Damage Liability (PD): $10,000 per accident. Pays for damages to the other car or any other property if you cause an accident.
3. Uninsured and Underinsured Motorist (UM/UIM): $25,000 per person $50,000 per accident. This is coverage for you and your family if you are injured by a person without insurance or without enough insurance.
4. Personal Injury Protection (PIP): Also called "No-Fault" benefits.
What is included in "no-fault" benefits?
Medical Expense Benefits: Typically $20,000 per person. This covers almost every type of treatment available, and you can choose your own doctors. The insurer must also pay your transportation costs or mileage to and from treatment.
Work Loss and Replacement Service Benefits: $20,000 per person, which covers:
Wage Loss: 85% of your gross lost income up to $500 per week. This includes lost wages while getting medical treatment.
Replacement Services: Up to $200 per week (starting one week after the accident) to pay for household help such as housecleaning, snow shoveling and yard work. An injured "primary homemaker" receives payment for lost services even if there is no out-of-pocket loss.
Death Benefits: Lost wages up to $200 per week, replacement services up to $200 per week and funeral cost up to $2,000. These are the minimum coverages. You may buy higher coverages. If you own more than one vehicle, your insurer must offer to sell you No-Fault stacking, which multiplies all the No-Fault benefit limits.
What other coverages are there in my insurance policy?
There are several other optional coverages you may have purchased in your automobile insurance policy, including:
1. Collision: Pays for damage to your car from an accident no matter who caused the accident.
2. Comprehensive: Pays for damage to your automobile caused by fire, theft, vandalism and other perils.
What should you do if you are injured in a car accident?
1. Report the accident to the police immediately. Any involved driver must exchange identification and vehicle registration information. The law also requires helping an injured person.
2. Get medical care for your injuries.
3. If there is an injury or property damage of $1,000 or more, a driver must fill out an accident report and mail it to the Commissioner of Public Safety.
4. Report the accident and your injuries to your insurance company in writing immediately. Early notification will speed payments for medical expenses, wage loss and other benefits.
5. Don't give a written or tape-recorded statement to any insurance company without talking to a lawyer first.
6. Talk to a personal injury lawyer at Keller, Woods & Thompson, P.A., as soon as possible.
Which company pays your no-fault benefits?
Generally, you collect from your own company. If you are in a commercial vehicle, you usually collect from the commercial vehicle's insurance. Even if you don't own a vehicle or otherwise have coverage of your own, you can usually apply to have coverage assigned to you. This can get very complex, so call Keller, Woods & Thompson, P.A., immediately if you have questions.
Will my insurance rates go up?
If the accident was not your fault, then your insurance rates will not go up for making a no-fault claim.
How do you start collecting no-fault benefits?
Report the accident and your injuries to your insurer immediately. Fill out an "Application for Benefits" form. There will usually be medical and employment authorization forms attached. The law may require you to sign authorizations for your insurer, but you should always check with an attorney.
Report your losses to your insurer in writing. If you can, send copies of medical bills, proof of lost wages and check stubs, prescription receipts, replacement services, etc.
Your insurer may ask that you be examined by a doctor of their choice. Consult an attorney immediately. The physical examination must usually take place in your home town.
You should see a doctor for your injuries as soon as possible and then continue with all treatment recommendations. If you skip treatment for a full year, the insurer may be able to deny future benefits.
When can you make a claim for personal injury against the at-fault insurance company?
If you have an injury, you may deserve compensation for losses no-fault benefits don't cover. These include pain, human suffering, disability, disfigurement, emotional distress and other losses. You may also claim some losses resulting from the injury or death of your spouse, your child or certain loved ones. In order to recover, you will have to prove liability and may also need to show one of the following:
1. Over $4,000 in medical bills
2. Disability for more than 60 days
3. Permanent injury or disfigurement
4. Death
If the driver causing the accident is uninsured, or hits and runs from the accident site, you may have additional rights.
If the other driver caused the accident, his or her insurance company must pay for your property damage promptly without any deductible, even if you don't carry collision coverage. If you were partially at fault, the other insurance company must pay a fair percentage equaling their driver's fault.
If you have collision coverage, your company may pay your entire bill, minus your deductible, and then go after the other driver or his insurer for repayment. If they do, they must pay you back a fair percentage of your deductible. If you don't have collision coverage and there is a disagreement about who caused the accident, you may go to court to force the other driver or his or her insurer to pay.
However, if you go to court only for your property damage, you may be giving up any right to make a claim for injuries in the future. We strongly encourage you to call the law firm of Keller, Woods & Thompson, P.A., before taking any action and letting us help answer your questions.
Do you have to give the insurer a statement?
One or more of the insurance companies may request you sign a statement or give a tape-recorded statement of the facts of the accident. Other Insurers: You are NOT required to give a statement to the other insurer. Your Insurer: You have a right to no-fault benefits regardless of who caused the accident. There is usually no reason for your insurer to request a statement. However, in certain situations, they may have a right to a statement. It is very important that you meet with a personal injury lawyer at Keller, Woods & Thompson, P.A., before providing any statements.
Are you required to sign a Release?
There is no reason to sign a release to get your no-fault benefits paid. In fact, do not sign anything until you have spoken to an experienced personal injury attorney who can help you complete the forms absolutely necessary to protect and advance your claim.
How long can the insurer take to pay?
The No-Fault insurance company usually has 30 days to pay. There is a 15% per year interest penalty on overdue payments. Do not permit your own insurance company to take advantage of you by means of many delay tactics.
What if you are not being treated fairly by your insurance company?
You should contact a lawyer to defend your rights. The insurance company is financially motivated to make sure your claim is minimized or even defeated. Unfortunately, many people find out the hard way that even their own insurance company doesn't necessarily care about them. The insurance companies have experienced and the advantage when dealing with an accident victim who does not hire an attorney.
When should a lawyer be consulted?
Immediately! A great law firm like Keller, Woods & Thompson, P.A., will cost you nothing. In fact, if you desire fair compensation, you need to act quickly. There is a real danger your rights will be prejudiced if you don't consult a lawyer right away. A lawyer may want to interview witnesses, take photos and gather other important investigative evidence immediately after the accident. Remember that insurance companies are giant corporations. They have professional investigators, lawyers, and adjusters working to protect their interests. It is an unfair advantage for them to take on your claim if you do not have a quality personal injury lawyer looking out for your best interests. You really need to have Keller, Woods & Thompson, P.A., a law firm protecting your rights.
How do I pay for a lawyer?
Most lawyers who limit their practice to personal injury only charge a percentage of the recovery. Some lawyers, like the law firm of Keller, Woods & Thompson, P.A., concentrate their practice on personal injury claims just like yours. Keller, Woods & Thompson, P.A., has the experience your case deserves. We can guarantee you will not personally owe us anything unless we assist you in making a financial recovery. You never have to pay any money upfront.
Please Drive Carefully And Prevent Accidents
You can avoid many accidents by simply using common sense. Make sure your automobile is always in good mechanical condition. Obey the rules of the road, keep a safe distance from other vehicles, and don't speed. When the weather is bad, don't drive. Drive defensively always keeping alert to what other drivers might do. The law firm of Keller, Woods & Thompson, P.A., wants you to avoid needing a lawyer by having a safe and happy trip.
---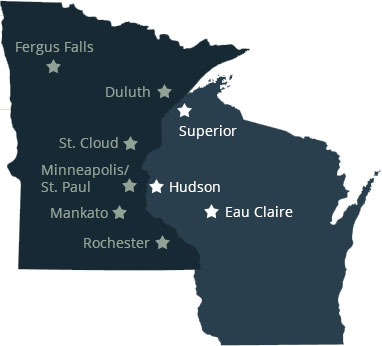 Keller, Woods & Thompson, P.A.
1300 Godward Street NE Suite 4000, Minneapolis, MN 55413
Phone: 763-447-4076 Fax: 763-571-2893
Our Firm Was Founded On A Single Principle: Put The Client First. We Make Sure That Our Clients Get 100% Of The Compensation They Deserve.
Keller, Woods & Thompson, P.A., of Minneapolis, Minnesota, provides representation in the Twin Cities, Minneapolis, St. Paul, Roseville, New Brighton, Brooklyn Center, Fridley, Blaine, Coon Rapids, Champlin, Lino Lakes, White Bear Lake, Woodbury, Oakdale, Golden Valley, Plymouth, Maplewood, Inver Grove, Eagan, Bloomington, Edina, Eden Prairie, St. Louis Park, Maple Grove, Minnetonka, Burnsville and Apple Valley. The firm also represents clients throughout western Wisconsin, including Hudson, River Falls and Superior.
© 2018 by Keller, Woods & Thompson, P.A., All rights reserved.