Child Injuries
Minneapolis Child Injury Lawyers
If you place your child in another person's care, whether a friend or family member, you trust that individual implicitly to provide adequate attention and supervision, protecting your child from harm.
At Woods & Thompson, P.A., we value children, and our law firm is committed to fighting for their protection. If your child has been hurt due to the negligence of another person, it is important that you seek legal representation to ensure that your child receives the treatment needed to make the fullest recovery possible.
Our attorneys work with parents and families to carefully investigate the details of the personal injury or accident and hold the responsible parties accountable. While you may be hesitant to file a claim against someone you know, it is important that you take legal steps to ensure that your child receives the very best treatment possible.
Swimming accidents — When there is a pool or body of water nearby, it becomes vital that a child is watched at every second. By just turning your back for a moment, a child can easily fall in and quickly drown.
Burn injuries — These happen more commonly to children than any other age demographic. From touching a hot surface to pulling boiling pans down on themselves, children can suffer burns and scars that may follow them for the rest of their lives.
Falling objects — As children explore and play, they can easily pull down bookcases and heavy objects on themselves, resulting in broken bones, neck injuries, or head trauma.
Falls — Children are often susceptible to falling down stairs or off of unsafe heights. They must be monitored and assisted at all times.
Electrical injuries — It is important that areas are child proofed, protecting them from outlets, cords and appliances that can cause serious electrical burns or electrocution to curious children.
If your child has sustained a personal injury, we strongly encourage you to contact a lawyer.
---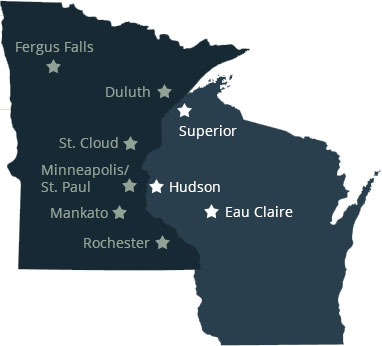 WOODS & THOMPSON, P.A.
941 Hillwind Road N.E. Suite 200, Minneapolis, MN 55432
Phone: 763-571-2345 Fax: 763-571-2893
OUR FIRM WAS FOUNDED ON A SINGLE PRINCIPLE: PUT THE CLIENT FIRST. WE MAKE SURE THAT OUR CLIENTS GET 100% OF THE COMPENSATION THEY DESERVE.
Woods & Thompson, P.A., of Minneapolis, Minnesota, provides representation in the Twin Cities, Minneapolis, St. Paul, Roseville, New Brighton, Brooklyn Center, Fridley, Blaine, Coon Rapids, Champlin, Lino Lakes, White Bear Lake, Woodbury, Oakdale, Golden Valley, Plymouth, Maplewood, Inver Grove, Eagan, Bloomington, Edina, Eden Prairie, St. Louis Park, Maple Grove, Minnetonka, Burnsville and Apple Valley. The firm also represents clients throughout western Wisconsin, including Hudson, River Falls and Superior.
© 2018 by Woods & Thompson, P.A. All rights reserved.