Child Injuries

–
If you place your child in another person's care, whether a friend or family member, you trust that individual implicitly to provide adequate attention and supervision, protecting your child from harm.
At Woods & Thompson, P.A., we value children, and our law firm is committed to fighting for their protection. If your child has sustained a personal injury due to the negligence of another person, it is important that you seek legal representation to ensure that your child receives the treatment needed to make the fullest recovery possible.
Our personal injury attorneys work with parents and families to carefully investigate the details of the personal injury or accident and hold the responsible parties accountable. While you may be hesitant to file a claim against someone you know, it is important that you take legal steps to ensure that your child receives the very best treatment possible.
–
---
Swimming accidents

— When there is a pool or body of water nearby, it becomes vital that a child is watched at every second. By just turning your back for a moment, a child can easily fall in and drown.

Burn injuries

— These happen more commonly to children than any other age demographic. From touching a hot surface to pulling boiling pans down on themselves, children can suffer burns and scars that may follow them for the rest of their lives.

Falling objects

— As children explore and play, they can easily pull down bookcases and heavy objects on themselves, resulting in broken bones, neck injuries, or head trauma.
---
Falls

— Children are often susceptible to falling down stairs or off of unsafe heights. They must be monitored and assisted at all times.

Electrical injuries

— It is important that areas are child-proofed, protecting them from outlets, cords

,

and appliances that can cause serious electrical burns or electrocution to curious children.

Illness

— Young children are more susceptible to illness and can get very sick. Areas where they play and eat should be sanitized, and it's important that food is cooked and stored properly to avoid foodborne illnesses that could be life-threatening.
–
If your child has sustained a personal injury, we strongly encourage you to contact a lawyer.
–

–

If your child has been injured while in the care of someone else, it's important to seek representation so that you can be reimbursed for medical bills; loss of wages while taking time off of work to care for your child; and even travel expenses going to and from the doctor's office. Here are a few things to know about child injury claims in Minnesota and Wisconsin:
As a minor, a child cannot file a claim for themselves.

A parent or legal guardian must file

a child injury claim on the child's behalf.

A child injury claim has a

longer statute of limitations

than other personal injury claims. A claim for a child injury must be filed within two years of the child's 18th birthday.

The child will be held to a

standard of reasonableness

. If the child is over 7 years old, the judge will decide if the child was responsible for their injuries.

A judge must approve the settlement amount

. The child, parent or guardian, and personal injury lawyer must appear in court for a judge to review the medical records, bills, insurance, and other facts in the case.

Claims for medical bills to treat injuries will be awarded to the parent. Since the parent is responsible for the medical bills of the child, they may be

reimbursed for medical bills

that are associated with treating their child's injuries.

Damage awards

are appointed to the child and, therefore, will not be paid until the child is at least 18 years old. In some cases, damage awards may be distributed to the parents, but a

guardian ad litem

will be appointed to the case to make sure the award is used for the child's benefit.
There is much more involved when it comes to child injury claims. For more information about the process and representation if your child has been injured, please contact one of our personal injury attorneys at Woods & Thompson, P.A.
–

The best way to protect your child while they're in the care of someone else is to child-proof your home as much as possible and give thorough directions of care to whoever is watching them. If they're going to a daycare center, it's important to make sure that the center has been child-proofed, isn't overcrowded, has enough staff, and everyone is trained and aware of any health issues or allergies your child has. Continue reading for tips on how to child-proof your home and what to look for in a daycare center in order to protect your child from personal injury.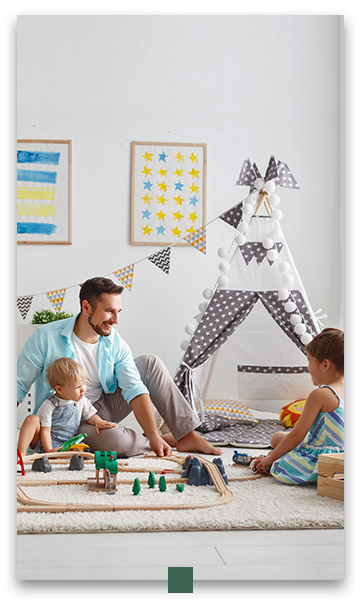 Child-Proof Your Home
Living Areas
There are several safety risks throughout your house, but the living room is probably where your child will spend much of their time. Make sure you've child-proofed this area for their protection.
Keep candles, lighters, and matches out of reach
to prevent burn injuries and eliminate choking hazards.
Keep heavy or breakable objects — like
books and picture frames — out of reach
as well to prevent objects from falling on them. If they break a frame, they are at risk to be cut by the glass.
Mount your television, other electronics, and picture frames
. This will keep them out of reach and prevent your child from being able to pull these objects down on top of them.
Keep open electrical outlets covered with outlet plugs and make sure power strips are out of reach. If an outlet is exposed, your child could try to put a metal object in it, risking electrocution. If you have a fireplace, make sure it's covered by a locking, heat-resistant gate to prevent burn injuries. In case your child falls, you should also pad the edges of the hearth to prevent cuts and broken bones. Keep fire-stoking tools out of reach as well.
Make sure smaller toys are put away
and stay out of reach of younger children. They pose a choking hazard.
Make sure table edges and any furniture with sharp corners are padded as they can cause bumps and bruises if your child falls. If tables are made of non-tempered glass, they are easier to shatter and should be placed in a room your child doesn't have access to.
–
---
–
Nursery/Bedrooms
Make sure cribs are appropriately set up for the age of your child. Keep stuffed animals and blankets out of cribs for babies because they are at risk to suffocate. For children who can sit up, make sure the mattress is low enough so they can't climb out.
Windows should have cordless blinds installed to prevent strangling. If the window sits lower, it should also have a guard installed so your child can't push the screen out and fall.
Keep dressers secure and closed when not in use and make sure children don't pull on open drawers while in use. Anchor it to the wall or the floor, along with any other furniture that they could tip over.
Porcelain statues and piggy banks are a cute way to decorate a child's room, but make sure they are out of reach so your child can't break anything. Piggy banks can be especially dangerous if children are able to get coins out of it because of the choking hazard.
In other bedrooms, make sure blankets are securely tucked in or out of reach. Keep breakable and heavy items out of reach. Also, secure furniture in this room as well and pad any edges that are a similar height to your child.
–
---
–
Kitchen/Dining Area
The kitchen poses a lot of safety risks to your child, from heating elements to sharp knives. It is best to keep this area gated off so your child doesn't have access to it when an adult isn't in the kitchen with them.
Keep cabinets locked, especially ones that contain cleaners and chemicals. You could also store these toxic items in cabinets that are out of reach of your child. It's not a bad idea to keep all lower cabinets locked so your child can't open them and pull out heavy pots and pans.
Store all cutlery in higher cabinets that children can't reach. It may seem out of the way to have a knife block pushed into the corner, but most toddlers can still reach the counter-top. To be safe, keep sharp knives stored in cabinets out of your child's reach.
Lock your dishwasher to prevent your child from ingesting any detergent or grabbing at sharp knives or breakable dishes. Most dishwashers have a lock setting built into the machine. Otherwise, you can invest in an appliance lock that works with your machine.
Keeping other appliances out of reach is also important. Make sure cords for these appliances are also out of reach so your child can't pull on them and pull the appliance down on top of themselves.

Microwaves are especially dangerous

. It is best to have them mounted to the wall. Never leave a running microwave or heated food in the microwave unattended.
The stove is another dangerous heating element in the kitchen. If burner knobs are at the front of the stove, remove them while not in use so your child can't mess with them and accidentally turn on a burner. While cooking, try to use the back burners and don't face handles outward for your child to pull on. Keep oven doors locked so your child can't pull the door down on top of themselves.
Consider latching your fridge if your child can open it. If you don't install a latch, make sure items that are poisonous (like medication) or choking hazards (like grapes) are stored on higher shelves.
If you can gate off your dining area, that's also ideal. Children can push out chairs, try to climb on them and risk falling, and also pull items off the table.
Keep your table cleared off when you're not using it. Don't keep a tablecloth on the table as your child can pull it down on top of themselves, along with anything else sitting on top of the table cloth. If you want to keep anything on the table, make sure it's in the center and out of reach.
If you have furniture with sharp edges and corners, make sure to add padding to them to prevent personal injuries to your child.
–
---
–
Bathrooms
There are plenty of personal injury risks that the bathroom poses to your child. From drowning to burn injuries, it's important that potentially dangerous items are child-proofed or stored out of reach.
The water for your bathtub can get hot enough to burn your child. If you can adjust your water heater, make sure the temperature isn't above 120 degrees Fahrenheit. If not, you can install an anti-scalding device to the faucet that detects when the water becomes too hot and shuts it off. It's also a good idea to put a cover on the tub faucet so your child can't bang their head on it. Make sure your child is always supervised when they're in the bath and wipe up any puddles to prevent them from falling and hitting their head.
Make sure medication in the bathroom is stored high in cabinets that are out of reach. Ingesting medication could cause poisoning and death.
Store other small items out of reach as well that pose a choking hazard. This includes contact cases, some cosmetics, and toiletries. Adding a latch to cabinets that these items are stored in is also recommended.
Heated styling tools are another bathroom danger for children. To prevent burn injuries, make sure all heated tools — like hair dryers, straighteners, and curling irons — are unplugged when not in use so a child can't accidentally turn it on. Keep these items out of reach as well to prevent other personal injuries.
Child-proofing doors isn't just for the bathroom but for the entire home. If there's a door that you don't want your child to have access to, you can

have covers or child locks installed on handles and door levers

. To prevent doors from slamming and pinching or amputating fingers, you can also install door stops that keep doors from shutting all the way.
Use these tips throughout your home in order to prevent a personal injury to your child. Our hope is that your child is never severely hurt, but if your child has sustained a personal injury while in the care of someone else, contact a personal injury lawyer at Woods & Thompson, P.A.
_
_
Continue reading for tips on how to choose a care provider or daycare center that will keep your child safe while they're not in your care.
–
How To Choose A Caregiver Or Daycare
–


Caregiver
If you can rely on friends or family to take care of your child, it can be a great convenience to you. It's still important to make sure they're qualified and equipped to take care of your child. The same can be said of a babysitter that you don't know. Make sure the person taking care of your child is a good fit and will be able to keep them safe while you're away.
---
References and background checks
—Be sure to check the references and perform a background check of all potential caregivers. Be sure they're capable of all the tasks you'll ask of them and refer to other families whose children they've cared for if they would recommend them as a babysitter for your child.
---
---
Ask them why they're caregivers
— Asking unique questions during the interviewing process will also help you decide who is going to be a good fit.You need to know more than just their availability and experience — you need to know that they are passionate about children and care about looking after them.
---
---
Observe how they interact with your child
— A trial-run isn't a bad idea to make sure a caregiver is a good fit for your child. It will give you the opportunity to observe how they interact with your children. Are they a good teacher? Do they play well with your child? Do they discipline appropriately? And, most importantly, are they aware of potential dangers to keep your child away from?
---
---
Trust your instincts
— Trust your gut regardless of how they perform in front of you. This applies to more than just babysitters, but to friends and family members as well. If you suspect your child is being neglected while in the care of someone else, don't hesitate to relieve them of their duties.
---
–
If your child has sustained a personal injury while in the care of someone else,

contact a lawyer

to represent your case, and make sure your child receives the medical care they need to recover.
–
Daycare
When choosing a daycare, whether at a public center or in someone's home, it's important to make sure all caregivers are licensed and the facility is able to accommodate your child's specific needs as well as your schedule. In order to prevent personal injury, there are some safety precautions that daycares should take to keep children safe. These are a few things you'll want to make sure a daycare has or does before choosing them for childcare:
---
Happy children and caregivers
— The ideal daycare will have children who are happily engaging in activities, with one another, and with caregivers. Caregivers should also be enthusiastic, patient, and engaged with the children.
---
---
Age-appropriate activities
— Children within one age group should have enough stimulation to keep them busy throughout the day. Are there enough toys and activities for children to play with or perform together? Daycare centers may also have a schedule for different activities throughout the day.
---
---
Children are separated into age groups
— for the safety of your child, the daycare should separate children by age groups. The best strategy is to have babies under 12 months in one area, toddlers in another, and older children — if the daycare provides care for them — in a third area.
---
---
The center or home is clean and safe
— Make sure caregivers keep areas clean and sanitized, wash their hands regularly, and have blocked off areas that could be dangerous to younger children.
---
–
_
There are plenty more things to consider for your child when trying to find a daycare for them. Check out this resource for a more complete guide on choosing a daycare. The daycare may have insurance or a protocol set up if your child is injured while under their care, but make sure they take full responsibility. In the case where you child has sustained a personal injury while at daycare and the caregiver or center won't accept liability, contact a personal injury lawyer to make sure your child's injury is taken care of and covered.
_
Contact Us
_
---
_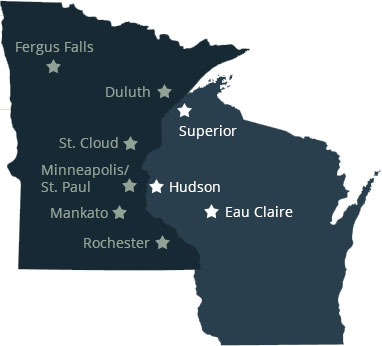 WOODS & THOMPSON, P.A.
941 Hillwind Road N.E. Suite 200, Minneapolis, MN 55432
Phone: 763-571-2345 Fax: 763-571-2893
OUR FIRM WAS FOUNDED ON A SINGLE PRINCIPLE: PUT THE CLIENT FIRST. WE MAKE SURE THAT OUR CLIENTS GET 100% OF THE COMPENSATION THEY DESERVE.
Woods & Thompson, P.A., of Minneapolis, Minnesota, provides representation in the Twin Cities, Minneapolis, St. Paul, Roseville, New Brighton, Brooklyn Center, Fridley, Blaine, Coon Rapids, Champlin, Lino Lakes, White Bear Lake, Woodbury, Oakdale, Golden Valley, Plymouth, Maplewood, Inver Grove, Eagan, Bloomington, Edina, Eden Prairie, St. Louis Park, Maple Grove, Minnetonka, Burnsville and Apple Valley. The firm also represents clients throughout western Wisconsin, including Hudson, River Falls and Superior.
© 2018 by Woods & Thompson, P.A. All rights reserved.
–