Paul Thompson
PAUL A. THOMPSON
Managing Partner, Litigation Attorney
Location: Minneapolis, Minnesota
Phone: 763-586-6070
Fax: 763-571-2893
paul@woodsandthompson.com
PAUL A. THOMPSON is the managing partner of Woods & Thompson, P.A. law firm, a boutique personal injury firm dedicated to helping individuals and families who have been hurt in accidents. While he has concentrated his practice on civil litigation and has experience representing a wide variety of personal injury accident cases, including victims of car accidents, slip, and falls, wrongful deaths, dog bites, medical malpractice, dram shop/drunk driving, boating accidents among others, Paul has also developed a vast amount of experience in the business world. Particularly, he has an understanding about representation of orthopedic, dental and chiropractic clinics with an emphasis on clinic start-up and development as well as business consultation services such as buy-sell agreements, partnership agreements, IC/employment contracts, insurance billing issues/practices, lease issues, etc. Paul really does have a unique legal background as not just a personal injury lawyer, but as an attorney who is tailor-made for helping those who have been injured in accidents.
Paul combines his vast experience with effective and compassionate client communication and representation to successfully translate the client's case into a successful courtroom strategy. He takes the time to truly understand the client's needs. As a result, he has earned the trust and respect of his clients for always keeping their best interests in mind, and the doctors who refer to Paul for his honesty, integrity and dedication to their patients.
While trying a case to a jury is not always the best option for each victim of an accident, this personal injury lawyer knows that his clients deserve to have their case built for trial to maximize their recovery. Paul has significant experience in resolving claims by means of negotiated settlement or other alternative processes. By constantly striving to provide the highest quality of legal representation to the people who hires him, Paul keeps the success of his clients his ultimate goal. This approach has resulted in just compensation for personal injury victims and clients who have confidence in making referrals.
Paul graduated from Augsburg College with summa cum laude honors in 1985. While working and raising a family, he obtained his juris doctorate from the University of Minnesota Law School in 1988. Since founding the law firm of Woods & Thompson, P.A. in 1997, Paul has represented thousands of injured victims who have valued his dedication, experience and steadfast loyalty, but he also finds time to continue to serve our local chiropractic and medical community with educational seminars and counseling.
Paul is licensed and admitted to both the Minnesota and Wisconsin Bar and member of the following:
• Minnesota State Bar Association
• Minnesota Association of Justice
• Minnesota Federal District Court
• Wisconsin State Bar Association
• Wisconsin Association for Justice
• American Association for Justice
• United States Court of Federal Claims
• United States Supreme Court Bar
---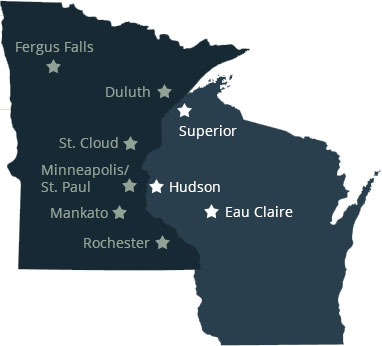 WOODS & THOMPSON, P.A.
941 Hillwind Road N.E. Suite 200, Minneapolis, MN 55432
Phone: 763-571-2345 Fax: 763-571-2893
OUR FIRM WAS FOUNDED ON A SINGLE PRINCIPLE: PUT THE CLIENT FIRST. WE MAKE SURE THAT OUR CLIENTS GET 100% OF THE COMPENSATION THEY DESERVE.
Woods & Thompson, P.A., of Minneapolis, Minnesota, provides representation in the Twin Cities, Minneapolis, St. Paul, Roseville, New Brighton, Brooklyn Center, Fridley, Blaine, Coon Rapids, Champlin, Lino Lakes, White Bear Lake, Woodbury, Oakdale, Golden Valley, Plymouth, Maplewood, Inver Grove, Eagan, Bloomington, Edina, Eden Prairie, St. Louis Park, Maple Grove, Minnetonka, Burnsville and Apple Valley. The firm also represents clients throughout western Wisconsin, including Hudson, River Falls and Superior.
© 2018 by Woods & Thompson, P.A. All rights reserved.