Personal Injuries We Focus On
Auto Accidents
Bicycle Accidents
Boating Accidents
Bus Accidents
Car Accidents
Car Accident Death
Car Accident Injury
Car Accident Settlement
Distracted Driving
Driving While Texting Accident
Fatal Car Accident
Good Faith Law
Speeding Accident
Dog Bite / Animal Attack
Harboring or Keeping Defined
Learn About Dog Safety
Pit Bull Bite Lawyer
Provocation In Dog Bite Case
Punitive Damages
Types of Dog Aggression
What To Do After a Dog Bite
Electric Shock
Epidural Injections
Food Poisoning
Garbage Truck Accidents
Motorcycle Crashes
Jet Ski Accident
Pedestrian Accidents
Burns & Explosions
Birthing Injuries
Surgical Errors
Homeowner Liability
Dangerous Drugs / Class Action
Premises Liability
Chronic Pain
Boating Accident
Product Liability
School Bus Accidents
Slip and Fall Accident
Chiropractor Malpractice
Train Accidents
Truck Accidents
Truck Crash Lawyer
Ankle, Foot Injuries
Broken Ankle
Broken Foot
Calcaneal Fracture
Lisfranc Fracture
Metatarsal Fracture
Talus Fracture
Trimalleolar Fracture
Brain Injury (TBI)
Brain Injury Symptoms
Cerebral Anoxia
Concussion
Coup and Contrecoup Brain Injury
Head Injury
Neuropsychology and Neuropsychological Evaluation
Permanent Disability
Post-Concussive Syndrome
Skull Fracture
Subdural Hematoma
Burn Injuries
First Degree Burn Injury
Second Degree Burn Injury
Third Degree Burn Injury
Child Injuries
Ear Injuries
BPPV / Benign Paroxysmal Positional Vertigo / Ear Crystals
Hearing Loss
Tinnitus
Electrical Shock Injury
Heart Injury
Lung Injury
Prescription Drug Recall
Swimming Pool Accidents
Airline Accidents
Aviation Accidents
Recreational Vehicles
Crane Accidents
Hazardous Chemical Exposure
Fire Accidents
Misdiagnosis
Eye Injury
Horner's Syndrome
Hyphema
Retinal Detachment
Knee Injuries
ACL Injury
Chondromalacia
MCL Tear
Meniscus Tear
Patella Fracture
Patellar Tendon Repair / Reconstruction
PCL Injury
Leg, Hip Injuries
Acetabular Fracture / Hip Fracture
Broken Hip
Broken Leg
Femur Fracture
Hip Replacement Surgery
Leg Amputation
Pelvic Fracture
Tibia Fibula Fracture
Tibial Plateau Fracture
Mesothelioma Lawsuit
Personal Injury
Golf Ball Injury
Deck Collapse
Complex Regional Pain
Myofascial Pain
Acupuncture Malpractice
Migraine & Headaches
Shoulder, Arm, Elbow Injuries
Broken Arm
Broken Clavicle
Broken Elbow
Broken Scapula
Rotator Cuff Injury
Shoulder Impingement – Bursitis
Shoulder Separation
SLAP Tear – Labral Tear
Ulna Radial Fracture
Ulnar Nerve Injury
Spinal Injuries
Back Injury
Burst Fracture
Compression Fracture
Facet Joint Injury
Herniated Disc
Laminectomy
Paraplegia
Radiofrequency Neurotomy (RFN)
Soft Tissue Injury
Spinal Fusion
Spinal Stenosis
Trigger Point Injections
Workplace Injuries
Wrongful Death
Evidence for MN Wrongful Death Case
Minnesota Beneficiary Claims
Minnesota Wrongful Death Damages
Minnesota Wrongful Death Statute
Statute of Limitations in Minnesota Wrongful Death Case
What Is a MN Wrongful Death Suit?
Wrongful Death of a Child
Wrongful Death of an Elderly Person
Wrongful Death of an Unborn Child
Other Practice Areas:
Assault and Battery
Medical Malpractice
Nursing Home Malpractice
Undiagnosed Condition
Failure To Treat
Emergency Room Malpractice
Failure To Diagnose
Doctor Errors
Medical Equipment Malpractice
Hospital Infection
Amusement Park Accident
Roller Coaster Accident
Staircase Accident
Escalator Accident
Elevator Accident
Prescription Error
---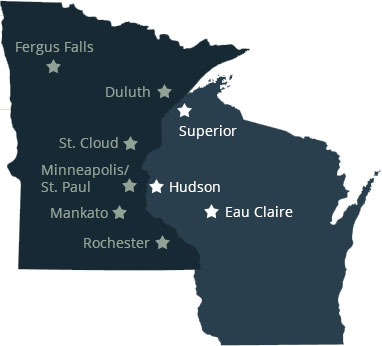 WOODS & THOMPSON, P.A.
941 Hillwind Road N.E. Suite 200, Minneapolis, MN 55432
Phone: 763-571-2345 Fax: 763-571-2893
OUR FIRM WAS FOUNDED ON A SINGLE PRINCIPLE: PUT THE CLIENT FIRST. WE MAKE SURE THAT OUR CLIENTS GET 100% OF THE COMPENSATION THEY DESERVE.
Woods & Thompson, P.A., of Minneapolis, Minnesota, provides representation in the Twin Cities, Minneapolis, St. Paul, Roseville, New Brighton, Brooklyn Center, Fridley, Blaine, Coon Rapids, Champlin, Lino Lakes, White Bear Lake, Woodbury, Oakdale, Golden Valley, Plymouth, Maplewood, Inver Grove, Eagan, Bloomington, Edina, Eden Prairie, St. Louis Park, Maple Grove, Minnetonka, Burnsville and Apple Valley. The firm also represents clients throughout western Wisconsin, including Hudson, River Falls and Superior.
© 2018 by Woods & Thompson, P.A. All rights reserved.