Introduction to Woods & Thompson, P.A. Lawyers
If you're trying to find an attorney in the Twin Cities area that focuses on personal injury, then consider a free consultation with Woods & Thompson, P.A.
Woods & Thompson, P.A. strives to provide compassionate advocacy for a diverse clientele of accident victims. We vigorously pursue justice for each and every client, while achieving results that exceed expectations. Woods & Thompson, P.A. provides financial justice for the injured clients we zealously represent, while also facilitating physical and emotional healing of our clients through a high level of service and caring.
Justice
The lawyer-client relationship is special, based upon trust, discretion, and absolute confidentiality. We ensure that each client's needs are addressed and understood, and we do so by treating each client's problems as if they were our own. It is our goal for each client to feel fulfilled at the conclusion of his/her case. We want our clients to feel confident that Woods & Thompson, P.A. has pursued the full range of legal remedies available through compassionate and ethical advocacy. By honoring the attorney-client relationship, practicing our philosophy of client service, and achieving exemplary results, verdicts, and settlements, we meet the high standards we have set for ourselves in representing our clients.
Excellence
Beyond excellent legal representation, Woods & Thompson, P.A. strives to be a good corporate citizen, supporting our community, as well as local projects that fit within our corporate culture, vision, and values. Through active participation, we strengthen our community, and in turn, we are able to make Woods & Thompson, P.A. a better firm.
Aggressive
Woods & Thompson, P.A. is honored to serve our clients in their times of need, through our legal expertise, time, and empathy. We are dedicated to legal excellence, responsiveness, and compassion, and will always appreciate, be humbled by, and be grateful for the trust placed upon us by those who call upon our services.
If you have been involved in an accident, we urge you to find an attorney who will represent you effectively and efficiently. Contact us today for any questions you may have about Woods & Thompson, P.A.
---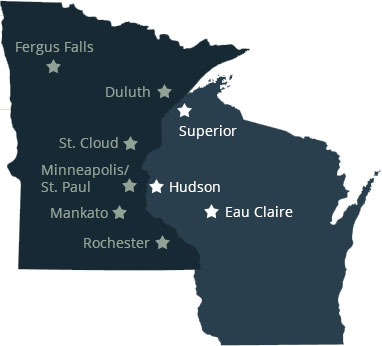 WOODS & THOMPSON, P.A.
941 Hillwind Road N.E. Suite 200, Minneapolis, MN 55432
Phone: 763-571-2345 Fax: 763-571-2893
OUR FIRM WAS FOUNDED ON A SINGLE PRINCIPLE: PUT THE CLIENT FIRST. WE MAKE SURE THAT OUR CLIENTS GET 100% OF THE COMPENSATION THEY DESERVE.
Woods & Thompson, P.A., of Minneapolis, Minnesota, provides representation in the Twin Cities, Minneapolis, St. Paul, Roseville, New Brighton, Brooklyn Center, Fridley, Blaine, Coon Rapids, Champlin, Lino Lakes, White Bear Lake, Woodbury, Oakdale, Golden Valley, Plymouth, Maplewood, Inver Grove, Eagan, Bloomington, Edina, Eden Prairie, St. Louis Park, Maple Grove, Minnetonka, Burnsville and Apple Valley. The firm also represents clients throughout western Wisconsin, including Hudson, River Falls and Superior.
© 2018 by Woods & Thompson, P.A. All rights reserved.