Slips and Falls
Slip And Falls And Work-Related Injuries
Whether you're a customer at a place of business or an employee of an establishment, you may, at some point, experience an accident that leaves you with a personal injury or aggravates a pre-existing injury. It's unfortunate that these incidents occur, but the good news is that you are not usually liable for them.
It is the business owner's responsibility to keep their facility safe and operational for their customers and employees. If an accident does happen, the employer needs to have general liability insurance and workers' compensation insurance in order to cover medical costs, loss of wages, pain and suffering, and more.
If you are a customer or employee and sustained an injury at a place of business or your job, please contact us for more information about how to move forward with your claim.
–

It is the responsibility of property owners and store managers to ensure that shoppers and the public are safe while on their premises. However, each year, thousands of individuals suffer serious injuries due to trips, slips, and falls. These injuries can include trauma to the hip, head, neck, back, and spine. These personal injuries can result in lengthy and costly medical bills.
Many people do not seek the treatment that they need after a personal injury, fearing how much it will cost. At Woods & Thompson, P.A., we are committed to helping you make the fullest recovery possible. We will handle the legal issues, filing a claim against the responsible parties while you focus on working with the necessary doctors and specialists to heal your injuries. These treatments will be covered in your claim.
For more information about personal injuries, contact us.
–
–
–
–
Slip And Fall Accident Causes
Of all personal injury claims, slip and fall injuries are one of the most common claims made in Minnesota. Most often, these slip and falls are caused by a substance on the floor that is sticky or slippery.
Other causes of slip and fall accidents include walking surfaces that are uneven or have significant holes in them. If the floor or any stairways have defects, this could also cause a slip and fall accident. Generally, if the design of a the space is unsafe or the way a building was constructed was unsafe, it could cause someone to have an accident. A poor amount or lack of lighting could also contribute to a slip and fall accident.
Cause of a personal injury like this one could also be a dog bite or animal attack. However, if this is the cause of your personal injury, please see our page about dog bite injuries.
–
Places Where Slip And Falls Happen
For the sake of your case, it's important to understand places where slip and fall accidents could happen in order to make a claim. Most slip and fall accidents happen at supermarkets and restaurants. However, slip and fall accidents can happen anywhere that there is an unsafe environment — including private property.
If you are on someone's private property and experience a slip and fall injury because of an unsafe environment, a slippery surface, or a defective surface, the owner of the property could be responsible.
An accident can also happen in public places like sidewalks, driveways, or parking lots. This will happen most often where there are unsafe conditions, such as ice or snow.
When a slip and fall accident takes place, the business owner or the homeowner is responsible for the personal injury because it is their job to keep the property safe. It is likely that they caused the unsafe conditions, knew about them, or should have known about them.
If you've experienced a slip and fall accident or sustained a personal injury in a public place or on private property, contact us for more information about how to file a claim.
–
What To Do After An Accident
When you experience a slip and fall accident, it is important to file an accident report, if possible. When you complete an accident report, you should give a detailed account about what happened, who witnessed the accident and the condition of the environment that caused the accident, and other important information (like the quality of lighting, for example). An accident report isn't required by law, but many businesses require a statement as a part of their company policy.
Whether or not you fill out an accident report, you should create a record for yourself. For your own records, you should document what happened, who was present, whether or not anyone made comments related to the condition of the environment or the accident, what you perceived the condition of the environment to be, and photos of the area, if possible.
When hiring a personal injury attorney, it is important for us to have as much information as possible about what happened. The more details you can give, the better we can represent you.
–
Paying For Medical Treatment
If you need to seek medical treatment for your slip and fall accident, there are a few ways that your expenses could be covered. If your fall occurred at a place of business, the owner will have general liability insurance to cover the cost of some of your medical expenses. If your fell on private property, the homeowner should have medical insurance to cover some of the medical expenses.
Note that these types of insurance will cover only part of the costs. The rest of your medical expenses will be covered in the settlement. If, for some reason, the business or homeowner can't use their insurance, you will have to use your own health insurance to cover the cost and you can request reimbursement in the settlement.
–
Slip And Fall Settlements
A settlement for an injury sustained from a slip and fall accident is similar to all other personal injury claims. A settlement for this type of claim will include payment to cover:
---
Pain and Suffering

Potential Future Medical Expenses
Potential Future Loss of Income
---
–
Depending on the extent of your personal injury, your settlement may include payments for only some of these. For more information on what you could receive settlement payments for, contact Woods & Thompson, P.A.
–

Sometimes the person who experiences an injury at a place of business is one of its employees. It's important for employers to have workers' compensation insurance so that they can pay you for injuries that you sustained while on the job.
While this means you don't need to sue your employer to make sure you're being compensated for the work you're unable to do while you're recovering, it is important to consult with a personal injury attorney to make sure that you are receiving the full amount of benefits you deserve.
If you have questions about receiving workers' compensation after a work-related injury, please get in touch.
–
Workers' Compensation Laws In Minnesota
In Minnesota, employers are required to provide insurance to their employees, including non-US citizens as well as minors. There are a few exceptions to this requirement, such as infrequent employees, nonprofit organizations whose annual payroll is less than $1,000, household workers who make less than $1,000 every quarter, and more.
To find out if your employer is exempt from having to pay workers' compensation or for more information about your work-related accident, please contact us.
–
Types Of Work-Related Injuries
Some work-related injuries are obvious because they are sudden, can be traumatic, and are an obvious result of an accident at the workplace. Another type of work-related injury, though, is one that is pre-existing, but becomes aggravated or worsens because of work activities.
When an injury occurs or worsens because of work, it's important to report it within 180 days of the incident. If your injury is one that's pre-existing, the "incident" would be considered doctors visit when you become aware that your injury has worsened or become irritated.
–
Filing A Claim For A Work-Related Personal Injury
Remember, you only have 180 days from the time of your work-related accident to notify your employer if you sustained an injury. In Minnesota, you can't be fired for submitting an accident report, so don't let the fear of losing your job keep you from filing a report.
–
Notify Your Supervisor
When you are injured from a work-related accident, you should notify your supervisor as soon as possible. After that, it's your supervisor's responsibility to complete a First Report Of Injury form.
Seek Medical Care
If your injury requires medical attention, it's important to visit the doctor as soon as possible. Your employer may require that you go to a specific medical center that's within the company's workers' compensation insurance network, but you may be able to go to your own physician.
When you go to the doctor, make sure you inform them that you're seeking care for a workers' compensation injury. Tell them when the injury occurred and how it happened, as well as your symptoms and why you believe the injury was sustained from a work-related accident or injury. You will also need to give your physician the name of your employer, the name and phone number of your supervisor, and the name of your employer's insurer.
During your visit, the doctor will complete a Report Of Work Ability form. This form will explain your physical limitations. Your employer and the workers' compensation insurance company will need a copy of this form as soon as possible because it can affect your wage-loss benefits.
–
–
–
–
–
The Claim Process
If you do not miss time from work, you could still be eligible for medical benefits and rehabilitation benefits for your work-related injury. If you do miss work, however, you are also eligible for compensation due to a loss of wages.
When you submit a claim, there is a waiting period before your benefits start. Once your claim has been processed, you will receive a copy of a form from the insurer with information about whether or not your claim was accepted or denied.
If your claim is accepted, it will provide information about your benefits and when you will start to receive them.
If your claim is denied, the insurer will provide all reasons as to why. If you disagree with the denial of your claim, there are actions you can take to settle the dispute. For assistance and information about disputing a claim denial, you can contact Woods & Thompson, P.A.
–
Work-Related Injury Benefits
When you are injured in a work-related accident, your benefits may include medical, rehabilitation, wage-loss, and other monetary benefits. The amount of benefits you receive depends on the severity of your accident and how it affects your ability to work.

Medical Benefits
---
Benefits for medical expenses will cover the cost of your medical treatment. This could include any treatment or supplies that are used to cure or relieve the effects of your injury. Different treatment may include psychological, chiropractic, podiatric, surgical, and hospital stays.

Rehabilitation Benefits
---
If your injury prevents you from performing your job, you may seek a consultant for vocational rehabilitation to help retrain your body to perform tasks associated with your job. In order to receive this benefit, you must submit a request to your employer's insurer for a rehabilitation consultation. Once approved, you, your employer, and a certified rehabilitation consultant will create a rehabilitation plan that will help you relearn tasks associated with your job.

Wage-Loss And Monetary Benefits
---
Depending on your injury and how much time you miss from work, there are different types of monetary benefits that you could receive. Some benefit the employee, while other benefit the dependents of the employee should they die because of their accident.
–
Temporary Total Disability

If, after your accident, you are unable to perform tasks for your job and your employer is unable to accommodate your work restrictions, you may be eligible for this wage-loss benefit.

Temporary Partial Disability

If your injury prevents you from working as much and you experience a loss of wages because of it, you could be eligible for this wage-loss benefit.

Permanent Partial Disability

If you have lost the ability to use a specific body part, this benefit will compensate you for your disability.

Dependency Rights

In the unfortunate event that the employee dies as a result of their work-related accident, the dependents of the employee could receive this monetary benefit.

Cost-Of-Living Adjustments

If you are receiving benefits over a long period of time, you may be eligible for an adjustment to your benefits as the cost of living changes. Adjustments under this benefit could be up to 3 percent.
–

Whether you've sustained an injury from a slip and fall accident or a work-related incident, Woods & Thompson, P.A. is here to help as your personal injury attorney. It's important that you talk with us personally about your specific situation so that we can represent you to the best of our ability. Contact us today to set up a consultation.
–
---
–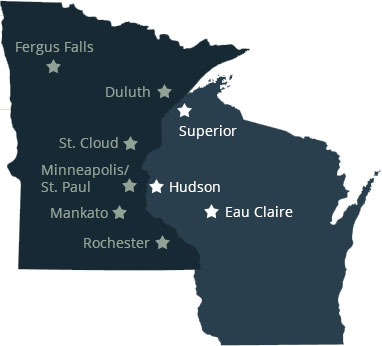 WOODS & THOMPSON, P.A.
941 Hillwind Road N.E. Suite 200, Minneapolis, MN 55432
Phone: 763-571-2345 Fax: 763-571-2893
OUR FIRM WAS FOUNDED ON A SINGLE PRINCIPLE: PUT THE CLIENT FIRST. WE MAKE SURE THAT OUR CLIENTS GET 100% OF THE COMPENSATION THEY DESERVE.
Woods & Thompson, P.A., of Minneapolis, Minnesota, provides representation in the Twin Cities, Minneapolis, St. Paul, Roseville, New Brighton, Brooklyn Center, Fridley, Blaine, Coon Rapids, Champlin, Lino Lakes, White Bear Lake, Woodbury, Oakdale, Golden Valley, Plymouth, Maplewood, Inver Grove, Eagan, Bloomington, Edina, Eden Prairie, St. Louis Park, Maple Grove, Minnetonka, Burnsville and Apple Valley. The firm also represents clients throughout western Wisconsin, including Hudson, River Falls and Superior.
© 2018 by Woods & Thompson, P.A. All rights reserved.
–