Slips and Falls
Minneapolis Slip and Fall Expert Attorneys
It is the responsibility of property owners and store managers to ensure that shoppers and the public are safe while on their premises. However, each year, thousands of individuals suffer serious injuries due to trips, slips, and falls. These injuries can include trauma to the hip, head, neck, back, and spine. These personal injuries can result in lengthy and costly medical bills.
Many people do not seek the treatment that they need after a personal injury, fearing how much it will cost. At Woods & Thompson, P.A., we are committed to helping you make the fullest recovery possible. We will handle the legal issues, filing a claim against the responsible parties while you focus on working with the necessary doctors and specialists to heal your injuries. These treatments will be covered in your claim.
For more information about personal injuries, contact us.
---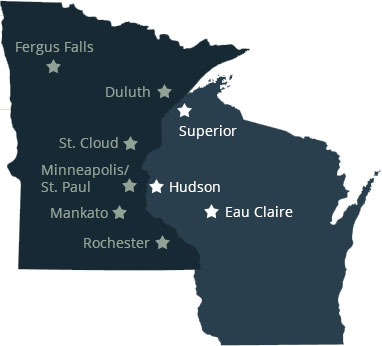 WOODS & THOMPSON, P.A.
941 Hillwind Road N.E. Suite 200, Minneapolis, MN 55432
Phone: 763-571-2345 Fax: 763-571-2893
OUR FIRM WAS FOUNDED ON A SINGLE PRINCIPLE: PUT THE CLIENT FIRST. WE MAKE SURE THAT OUR CLIENTS GET 100% OF THE COMPENSATION THEY DESERVE.
Woods & Thompson, P.A., of Minneapolis, Minnesota, provides representation in the Twin Cities, Minneapolis, St. Paul, Roseville, New Brighton, Brooklyn Center, Fridley, Blaine, Coon Rapids, Champlin, Lino Lakes, White Bear Lake, Woodbury, Oakdale, Golden Valley, Plymouth, Maplewood, Inver Grove, Eagan, Bloomington, Edina, Eden Prairie, St. Louis Park, Maple Grove, Minnetonka, Burnsville and Apple Valley. The firm also represents clients throughout western Wisconsin, including Hudson, River Falls and Superior.
© 2018 by Woods & Thompson, P.A. All rights reserved.