Dog Bite Injuries
Minneapolis Dog Bite Injury Lawyer
Animal attacks are often traumatic and even life altering, especially if a child is involved. A dog bite can cause significant damage, especially to children. This can result in costly surgeries, or even therapy, to correct the harm. If you or a loved one has been bitten or attacked by another person's dog or pet, there are legal options you can take to receive compensation for the attack.
At Woods & Thompson, P.A., our attorneys understand the physical and emotional scarring that can result from a dog bite or an attack. We work to ensure that you or your child's scars and injuries receive the treatment needed to make the fullest recovery possible, while we fight to ensure that those medical bills and pain are compensated.
Many victims of dog bites are attacked by the dog of a friend, family member, or neighbor. While most people want to avoid a claim against someone they know and love, it is important that the treatments you or your child needs are covered.
We will work through the individual's insurance policies, finding coverage for your medical bills. After years of paying premiums, insurance is there to provide benefits when you need it. We will seek maximum compensation from the insurance companies.
We are known and trusted throughout Minnesota and Wisconsin by clients whom we have helped recover. Doctors respect our work and routinely refer patients to us for representation. Our staff provides individualized care and attention on each case, committed to recovering everything that the client is entitled to.
If you have been involved in a dog bite or an attack, then we urge you to reach out to Woods & Thompson, P.A.
---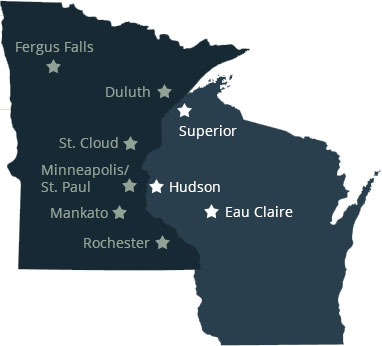 WOODS & THOMPSON, P.A.
941 Hillwind Road N.E. Suite 200, Minneapolis, MN 55432
Phone: 763-571-2345 Fax: 763-571-2893
OUR FIRM WAS FOUNDED ON A SINGLE PRINCIPLE: PUT THE CLIENT FIRST. WE MAKE SURE THAT OUR CLIENTS GET 100% OF THE COMPENSATION THEY DESERVE.
Woods & Thompson, P.A., of Minneapolis, Minnesota, provides representation in the Twin Cities, Minneapolis, St. Paul, Roseville, New Brighton, Brooklyn Center, Fridley, Blaine, Coon Rapids, Champlin, Lino Lakes, White Bear Lake, Woodbury, Oakdale, Golden Valley, Plymouth, Maplewood, Inver Grove, Eagan, Bloomington, Edina, Eden Prairie, St. Louis Park, Maple Grove, Minnetonka, Burnsville and Apple Valley. The firm also represents clients throughout western Wisconsin, including Hudson, River Falls and Superior.
© 2018 by Woods & Thompson, P.A. All rights reserved.